Max is really enjoying playing baseball this season.  He is in the Minor 'A' league, on the Durham Bulls (a minor league of MLB). 
He prefers playing 1st base.  The coach also puts him in left field because Max has the speed to chase fly balls.  He has made some tremendous defensive plays and has been awarded 3 'game' balls this season.
This past Saturday, Max tried something new.  The coach asked him to start off the game in the position of pitcher.  Max had never pitched in a game before, but has been throwing balls into a piece of plywood in the yard for a while.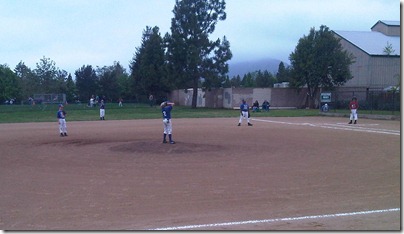 In the first inning, Max got 2 strikeouts and had 1 run scored on 13 pitches.  He did so well that the coach had him pitch for the second inning as well.  In the second inning, he struck out 1 batter and held the opposing team scoreless in 21 pitches.
The coach's original intent was (and continues to be) to give each boy who wants a chance to pitch for at least 1 inning.  Max exceeded expectations, and so I think the coach might add Max to the pitching rotation.  The coach really likes the idea of having a left-handed pitcher.